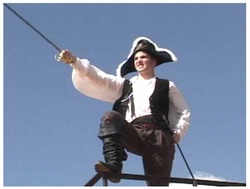 Kung Fu Master Dave (Nash Frisbie) has been captured and Ninja Master Mentos (Nicholas Randolph) must rescue his endangered friend and mentor. Along the way he will receive help from God (Andy Bowman), Captain Howdy (John Paul Leonard) and Tukabigpoo (Angela Porter).

But standing in his way are some of the toughest thugs west of Hong Kong, including the feared Pirate Boots (Patrick Loveless), the evil and treacherous Frenchman Ese Le Pu (Ryan Porter), and of course Doctor Oddulous (Ryan Dennis).

Blending old-fashioned kung fu action with modern humor and wit, Ninja Cinema is smart, funny and electrifying. Award-winning performances, striking cinematography, brilliant direction and a superb soundtrack make Ninja Cinema the one film you can't live without.

---
A Divine Media and Loveless Films Production
Starring Nicholas Randolph, Ryan Dennis, Nash Frisbie, John Paul Leonard, Angela Brown-Porter, Ryan Porter, Patrick Loveless, Matt Carthel, Ashley Davis and Amy Stone.
Based upon characters created and developed by Patrick Loveless.
Written and directed by Patrick Loveless.

THIS FILM IS NOT RATED - CONTAINS SOME VIOLENCE
RUN TIME APPROX. 30 MIN.